Shopping Basket
Your Basket is Empty
There was an error with PayPal
Click here to try again
Thank you for your business!
You should receive an order confirmation from Paypal shortly.
Exit Shopping Basket
| | |
| --- | --- |
| Posted on 4 June, 2014 at 21:30 | |
Okay, well, I didn't start 4 months ago either. As you can tell, this is truly an inspirational blog! (NOT!) 
But it WILL be! In fact, having a few false starts will probably eventually BE inspirational, because I WILL succeed! So when people read the blog and see that I persevered even though it took me forever to get started, well... that will be inspirational, right? Right! 
So it's time to get serious. Especially since my last check-up with my nurse practitioner wasn't very good. In fact, it was awful. I am ONE POINT below the threshold for type 2 diabetes due to my weight, diet and lack of exercise. My NP said she would give me until May and if my blood sugar wasn't lower, I'd have to go on medication and start checking my blood, etc. 
I DON'T WANT TO DO ALL THAT!
So I cancelled my appointment in May because, once again, I didn't get going on taking care of myself. I need to reschedule the appointment and I need to lose some weight and get on to a good diet before I see her again! Gaaaaahh!
I made vegetable soup to eat when I am hungry between meals. It's made with fat-free chicken broth and the following veggies: carrot, snow peas, green beans, diced tomato, brocolli, onion, garlic, red bell pepper, celery, zucchini and these herbs: basil, bay leaf, black pepper and a little Italian herbs mixture. These are all the veggies that don't "count" because they are so high in fiber and low in glucose and calories. I have 3 containers in the freezer and one in the fridge.
I also did 20 minutes on the treadmill today, yay! I only walked at 2mph and I was sweating all over by the time I was done. I started watching a movie called The Name of the Rose while walking which I'll continue each time. I use a pair of headphones to listen to the movie, because my treadmill is sorta loud.
Fingers crossed that I can make this stick and get on a roll!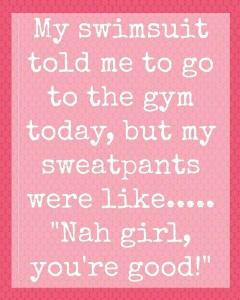 Categories: None
/